This 95-YO Psychiatrist Changed The Way We View Mental Health
---
Ameen Qudir
Published:
2018-12-11 07:34:46 BdST
This 95-YO Psychiatrist Changed The Way We View Mental Health
---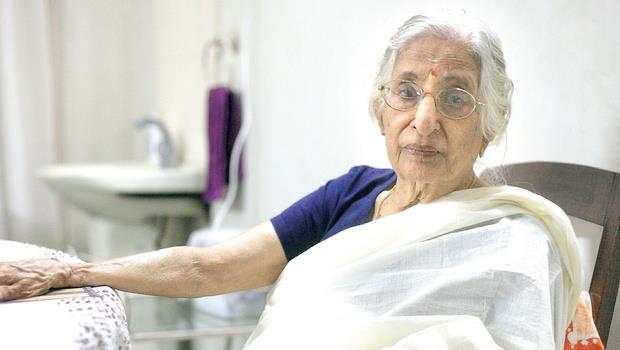 by Priyamvada Chugh

Health Heroes – This article is part of a series to celebrate some of India's most amazing doctors and to understand the incredible work they are doing.
"Look at a person with mental health problems as a human being, and then everything will change," says psychiatrist Dr Sarada Menon.

The 95-year-old Padma Bhushan awardee founded India's premier mental health NGO, Schizophrenia Research Foundation (Scarf), in Chennai in 1985.
In a one-on-one, Dr Priyamvada Chugh discusses the 60-year journey of India's first woman psychiatrist, the challenges daunting the mental health of Indians and the path ahead.
Mental health is the key to the physical and social well-being of a person. Scientific studies have shown that people with mental health issues generally die 10-20 years earlier than the general population.

However, this has long been ignored in India at the level of the authorities as well as tabooed at the level of society.
Now, these issues are on a steep rise.
"Today, the biggest mental health issues in India are depression and schizophrenia, while in the coming years, newer problems due to addiction to drugs, mobile phones and electronic devices will emerge," begins Dr Menon.

According to the WHO, depression is an illness characterised by persistent sadness and a loss of interest in activities that a person normally enjoys, accompanied by an inability to carry out daily activities, for at least two weeks.
Today, more than 350 million people across the world suffer from depression. Shockingly, one in five Indians may suffer from depression in their lifetime, which is equivalent to 200 million people.
"Depression is finding more occurrence in India in the form of chronic pain as well as psychosomatic symptoms, such as domestic disturbances due to a person in the family, who may be suffering from depression. The behavioural symptoms of depression can have different faces—from running away from the family in one situation to increased religiosity in another," Dr Sarada explains.
Depression most commonly affects adolescents and young adults, women of childbearing age, particularly following childbirth, and adults over 60 years of age.
Dr Menon details, "In women, the major culprits are hormonal imbalances, lifestyle changes, social stresses, including cultural demands, and difficulties with child rearing. On the other hand, men can also develop depression primarily due to pressures at work, financial stresses, peer pressures, and family responsibilities."
Sadly, with changing lifestyles, lack of exercise and reduced personal communication, the incidence of loneliness and thus, depression, is rocketing across all ages and genders. Untreated depression not only prevents people from working and participating in community and family life but can also lead to suicides.
So, what is it that the near and dear ones can do to help?
Dr Sarada answers, "The most important thing is to detect depression from unexpected changes in daily functioning – routine work, social responsibilities, communication, grooming, recreation etc. The next step is to seek medical help!"
This means that while following the prescribed medication is essential to recovering from depression, there is no replacement for kindness and support that only the family can provide.
She continues, "'Approve, Appreciate and Acknowledge' the improvements made by the patient. Encourage yoga, meditation and other methods that promote optimism."
While several hospitals, NGOs and medical practitioners are working towards tackling these issues in India, several roadblocks remain, leading to an almost 80% gap between the need for treatment and its provision.
Dr Menon details major stumbling blocks as the following:
1) Inadequacy of trained personnel at different levels of service requirements. For example, there are just 0.3 psychiatrists, 0.07 psychologists and 0.07 social workers per 1,00,000 people in India, as compared to 6.6 psychiatrists per 1,00,000 people in developed countries.
2) Difficult acceptability of treatment by the patient and their families due to social stigma. In this regard, a 2015 survey showed that while nearly 150 million Indians need mental health care, less than 30 million seek help.
3) High cost of the treatment, which makes it unaffordable for many people. For example, the treatment of depression in India not only costs the families approximately Rs 1,500 per month towards the drugs and consultation, but also costs the loss of 8.5 working days in the preceding three months for the family members.
4) Inadequate interest and a nihilistic attitude of the government, which has so far been treating the subject of mental health on low priority with only 0.06% of India's total health budget being spent on mental health care, in contrast to developed nations like USA and UK which spend 6.2% and 10.82%, respectively.
5) Long treatments, which are not time-bound, make it difficult for the patients and their families to recover and resume normalcy.
With all these problems, the picture looks grim.
Nevertheless, we have come a long way over the last 60 years during which Dr Menon has been practising medicine.
"I encountered 'mental illness' during the final year of my medical training in 1959. I had witnessed a number of people abandoned by their relatives, who would give the wrong address and leave. These 'patients' were ill-clad, naked, posturing, gesturing, talking to themselves and unaware of everything, out of touch with reality. They were irritable and violent, and we had no access to them. There was no definite treatment, apart from restraint and sedation with medicine, administered orally or parenterally. Personal care, nutrition, sleep and communication, all needed attention. Training was needed to tackle this serious problem," she recollects.
The first training centre in India was started in 1955 at the All India Institute of Mental Health in Bengaluru.
She recalls, "A new drug for mental illness called Chlorpromazine had just entered the market. It was through this that we witnessed several positive changes in the late 50s."
During the next few decades, several key developments in mental health services took place. Training programmes were developed for all categories of staff, including psychiatrists, psychologists, psychiatric social workers, counsellors, and occupational therapists.
Dr Sarada continues, "Moreover, specialisations for psychiatrists were being conducted. It was during this time that each hospital started to have a psychiatric out-patient ward with inpatient beds; research started being conducted on various mental health issues, and the National Mental Health Programme was intensified."
While these positive changes laid a strong foundation for mental health care services in India, Dr Menon suggests that increasing the availability of second-level staff and further investigation into the mental health of women and children will go a long way in strengthening mental health care from the Indian perspective.
She adds, "Disability as a result of mental illnesses needs to be attended through rehabilitation practices. While there are several islands of activity, interest and approaches in this regard, it hardly covers the number of mentally-disabled in India. We have to create wealth from this waste," she emphasises.
You May Also Like: Therapy is For Everyone – 5 Ways It Can Improve Your Overall Health
Overall, with increasing mental health issues affecting the well-being of Indians, it is time we sensitise and educate society about the symptoms of mental illnesses and together, fight the stigma that prevents people from seeking medical help.
#LetsTalk and work together in ensuring that the black dog of mental health illnesses is leashed before it is too late.
About the author: Priyamvada Chugh is a cancer biology scientist who has been involved in research across laboratories in Mumbai, Germany, and the UK over the last 9 years. Having worked at the World Health Organization Press in Geneva, she is currently working as an Editor in a Scientific Journal. She is passionate about applying her scientific understanding to spreading awareness about public health issues.
আপনার মতামত দিন: